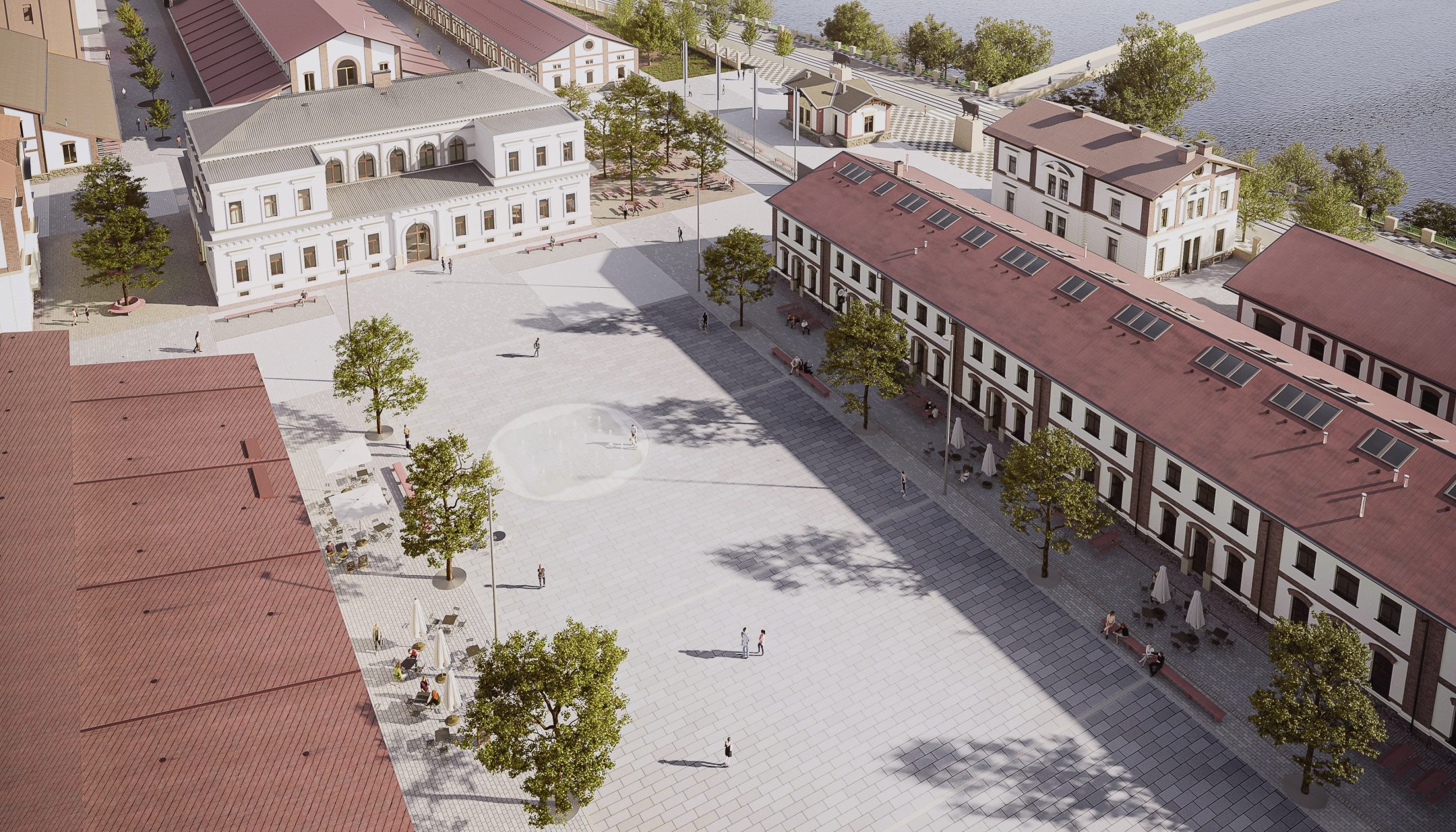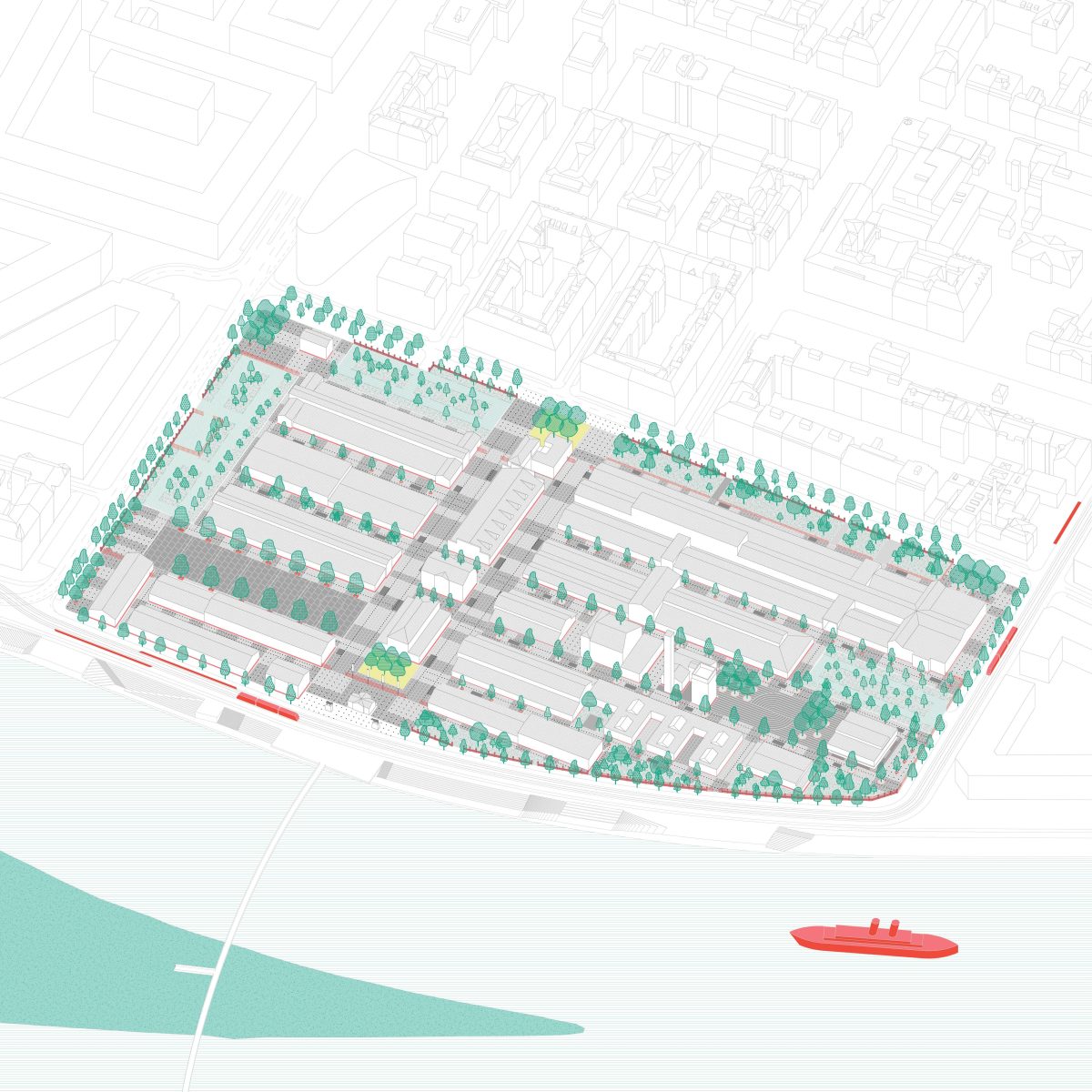 Discover
After a long period when the previous private tenant let the market fall into disrepair, the city took the market back under its management in 2019 and started its renovation. Broken surfaces, an uncluttered traffic layout or a lack of furniture and greenery make the intermediate space a place that still has reserves in terms of leisure activities. Even so, life in the market has found its opportunities. We see public space as an important image of society. The aim of the transformation is to reclaim the listed area and connect it to the city. The creation of a more welcoming space with greenery and seating will provide a new attraction for better quality tenants and thus year-round life in the market.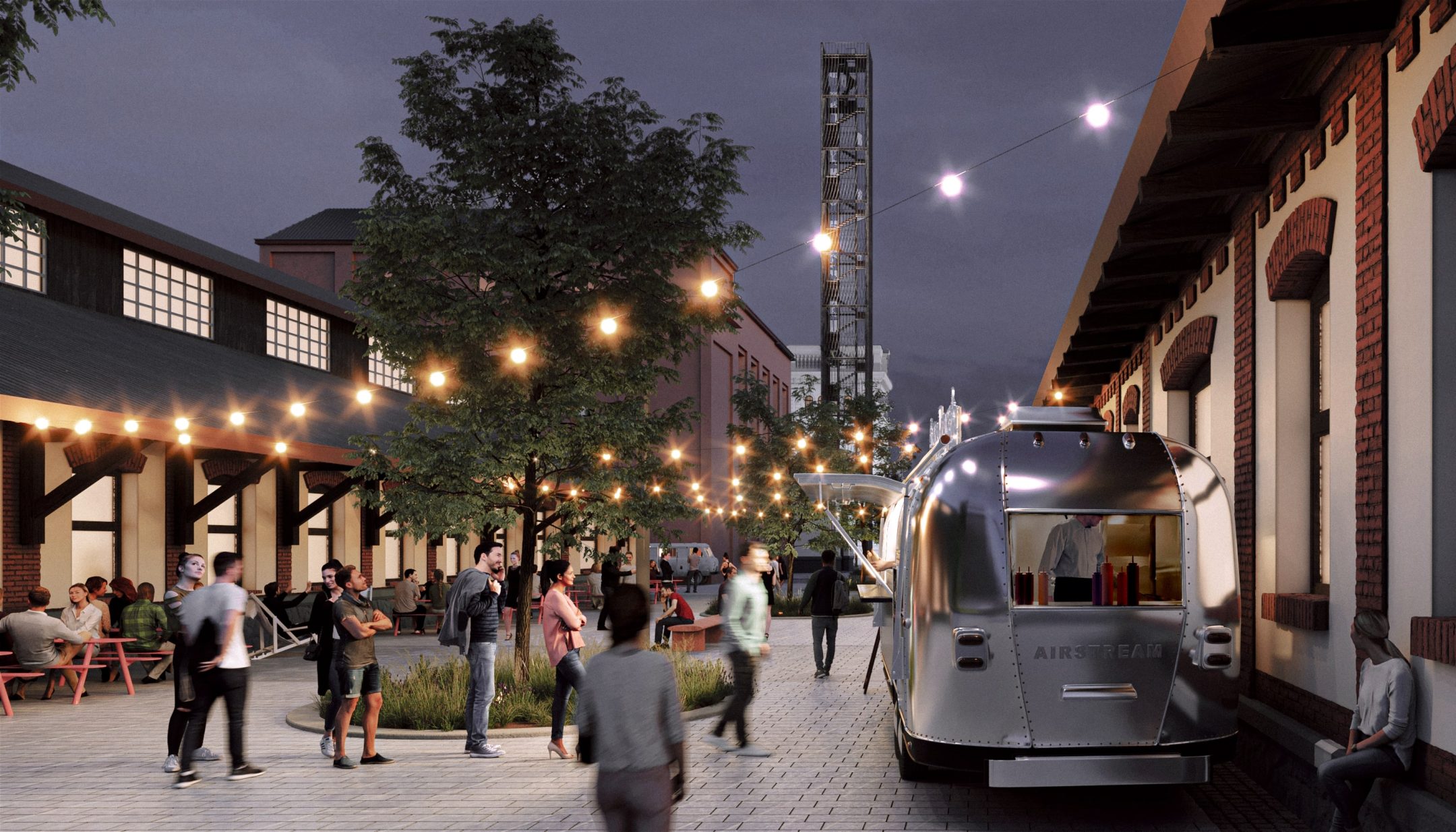 Design
In the design we aim to create a natural connection between the historic architecture of the market and its new form. We found motifs that recur in the buildings and transferred them into the new morphology of the design through the laying of paving, the design of furnishings or fencing.  Our design emphasizes the preservation of human scale and legible structure. We propose to break up areas by using a variety of paving and small details to simplify orientation and reduce the scale of monumental spaces. Our vision for the new marketplace also eliminates fences and enclosure throughout the site. The corners open up to the city and the borders shift to the facades of the buildings. Given the phenomenon of "heat islands", we see the placement of trees in public spaces as key to providing comfort in overheated city centres. To increase the ratio of green space in the marketplace, we propose a structure of green "buttons" that will be distributed in a regular grid around the space. In addition to zoning, they also provide shade while changing the atmosphere of the place throughout the year.
The design also includes a new furniture system, which is based on various systems – from fixed monumental elements to free urban furniture. By transforming the market, we want to support its potential as a space for an active programme of all scales, from large events to small local markets.  In transforming the market, we are emphasising the creation of a space that will support an active programme of all scales and focuses – from large events such as concerts to small local markets.
We divide the furniture into two categories. The first (sit & relax) is visually dominant and encourages gathering and relaxation in open spaces. The second category (work & drink) with a non-distracting design is mainly intended for picnics or work. Both collections are formally unified by the archetype of the circle, which we have recognised from the original market buildings.
Echo
"We appreciated the clear approach of the solution, which stood out compared to other projects, not only in the landscape and public space design, but also by working with themes such as global warming. We also appreciate the work with a wide yet condition-appropriate plant palette, designed with a considerable variety and reasonable proportion. The jury appreciated the good workmanship of the overall design and highly appreciates the work of connecting the market to the surroundings i.e. the penetration of the perimeter wall and the opening up of the site, which seems optimal and highly functional."
Project information
Client

Capital city of Prague

Year

2022

Location

Prague 7, Czech Republic

Size

108 975 m²

Visualisations

Monolot Studio

Street furniture

Eduard Herrmann & Matěj Coufal

Graphic design

Matěj Vojtuš & Josefína Karlíková

Authors

Ján Antal
Martin Stára

Co-authors

Silvia Snopková
Sebastian Sticzay
Tomáš Pavlakovič
Jakub Herza
Barbora Kuciaková
ext. Radek Prokeš