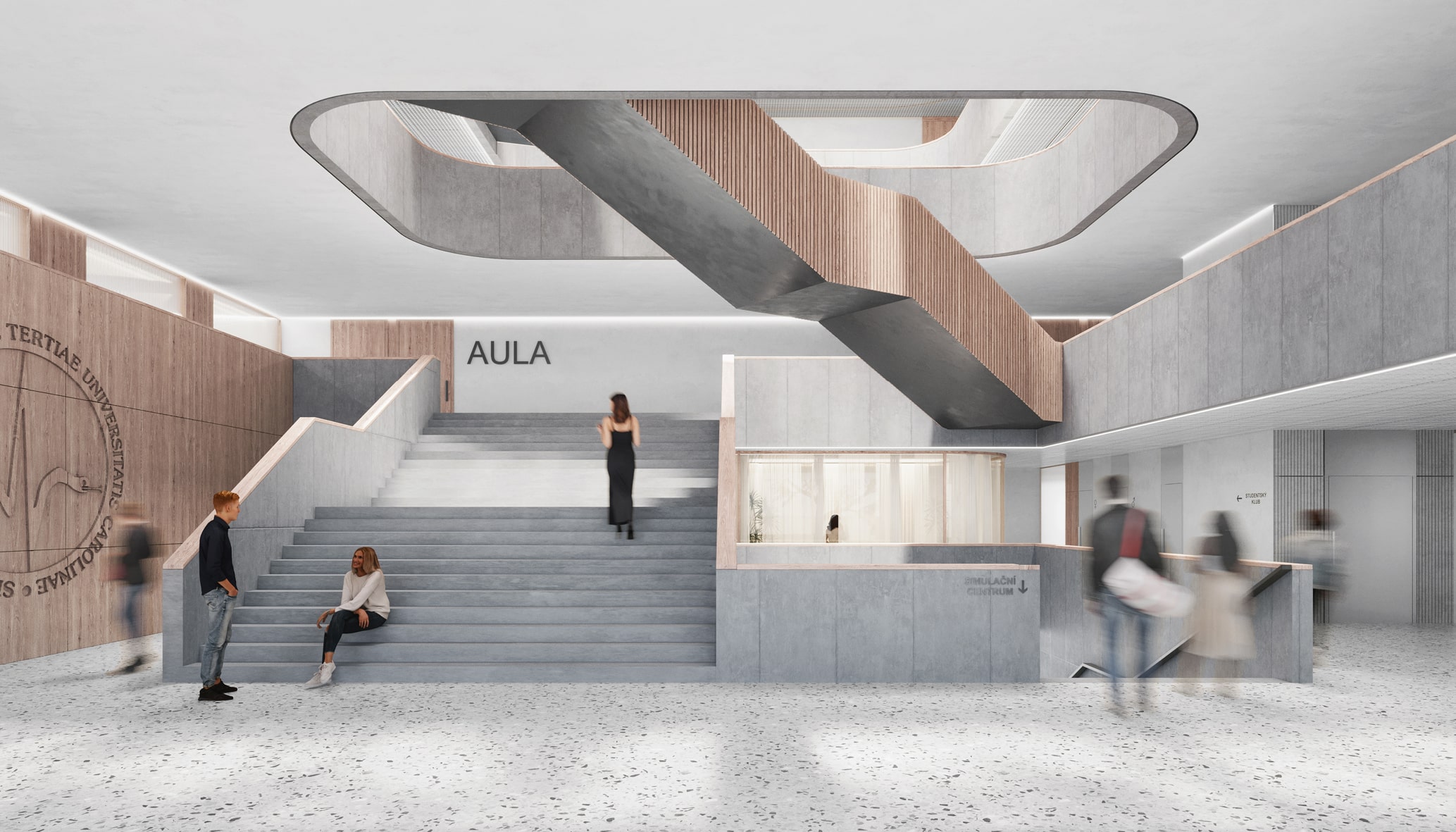 Discover
The new learning centre of the 3rd Faculty of Medicine is set in the context of the State Institute of Health surrounded by greenery. Within the height profile we give way to the neighbouring building of the dean's office, which represents a residence of great importance. However, the buildings communicate with each other through a covered walkway that connects them. The design of the new representative building also determines its public space. The emphasis is on reclaiming the forecourt to create a pleasant place of residence with street furnishings that students can use in their free time. The unobtrusiveness of the building is underlined by the preservation of the mature trees along the street and the permeability of the green space.
Design
Object-machine. We propose a functional and contemporary house that is connected across floors by a dominant staircase. Its function is not only a link, but at the same time it illuminates the atrium and ensures proper air exchange between all floors. A strong expressive element is the strip window, which is complemented by a green façade with built-in planters. Functional, practical, interwoven with technology – the new teaching centre provides a contemporary perspective on medical education and can thus be placed alongside world-renowned universities.
Within the location of the building between the neighbouring buildings we emphasize the preservation of the existing greenery. We maintain the mature tree line along the street and the maximum number of trees in the solution area. The setback from the road provides calming for students and learning center staff. We reflect the location next to the Dean's Office headquarters through the lower height and set back of the top floor. Its connection is provided by a covered bridge.
We are reclaiming the Dean's Office forecourt and reducing parking spaces. This creates a residential place for students with urban furniture for leisure time, which will be accessible from the student club. We alternative the reduction of parking spaces through underground parking, which is located on the second lowered floor. As part of the revitalization of the Dean's Office frontage, we will divert parking spaces to the east side. The pedestrian zone allows for fire department access if needed.
The structural design is a combination of a monolithic reinforced concrete frame and wall system. A reinforced concrete core with an escape staircase complements the passenger and freight elevator. The heavy perimeter façade is complemented by strip windows that provide sufficient light. The interior design is dominated by the steel staircase system in the atrium.
Echo
"The jury appreciates the architectural and urban design with an appropriately chosen scale of the building. The materials and detailing of the interior and exterior, including the landscaping of the public spaces, are considered very sophisticated. "
Project information
Client

Charles University - 3rd Faculty of Medicine

Year

2023

Location

Prague 10, Czech Republic

Size

9 560 m²

Visualisations

Dousek & Zaborský

Authors

Ján Antal

Co-authors

Silvia Snopková
Sebastian Sticzay
Tomáš Pavlakovič