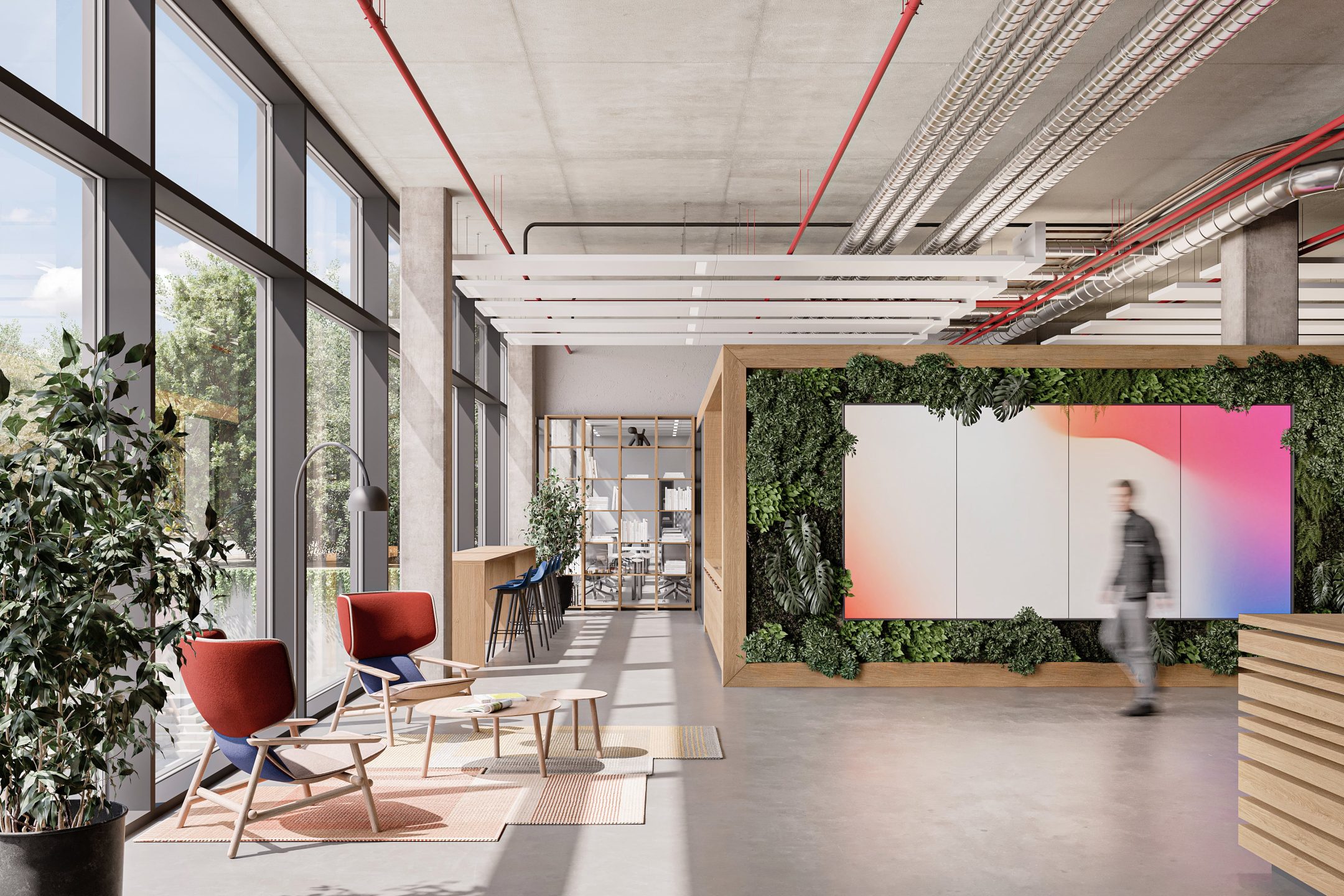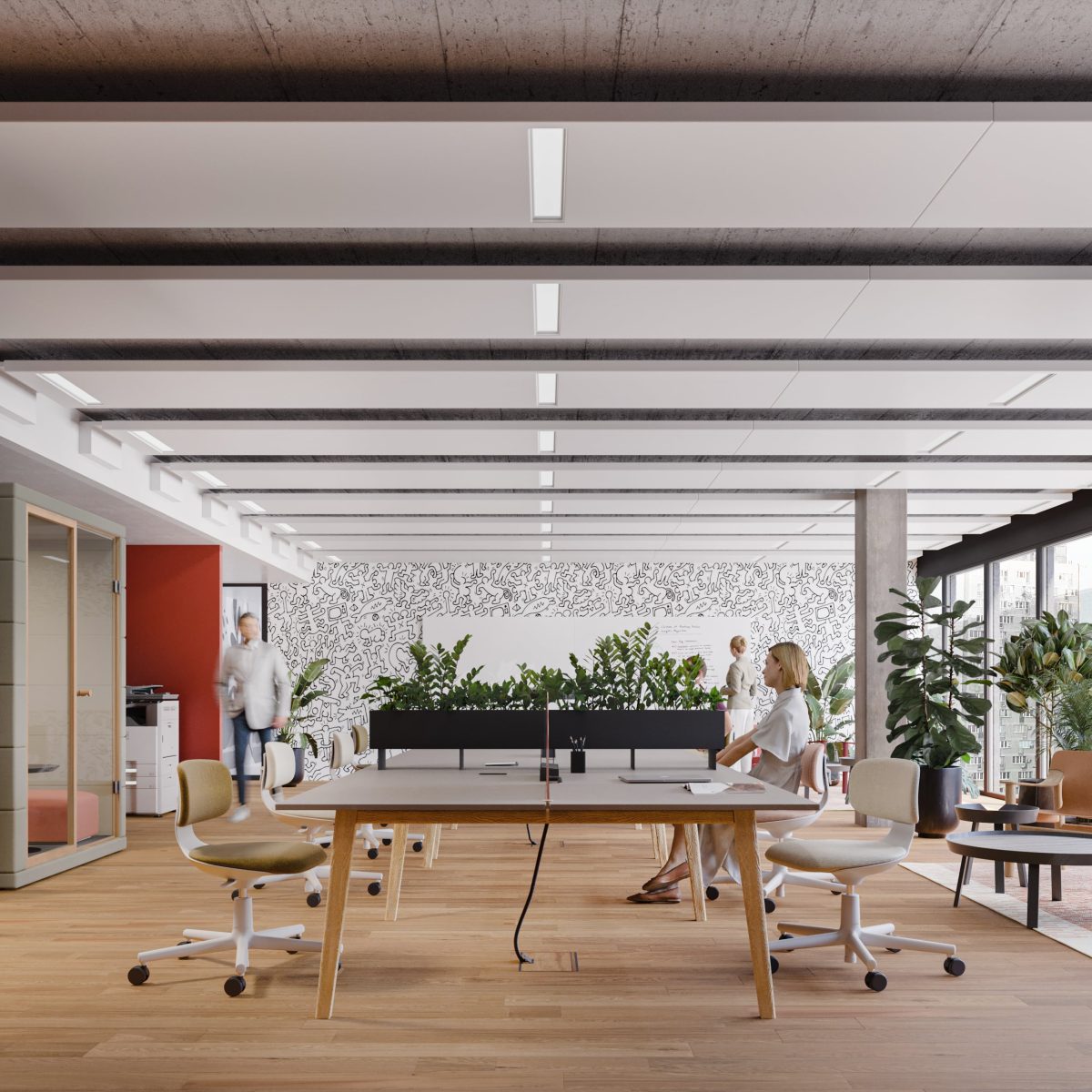 Discover
With more than 2.4 million customers and a presence in seven European countries and Brazil, home24 is the number one online shopping platform for furniture and home accessories. For the existing workforce of more than 500 employees, which will be expanded, we are preparing a headquarters in the multifunctional project DSTRCT.Berlin by HB Rravis. Located on the border of Friedrichshain and Prenzlauer Berg. On six floors with a total area of 12,000 m² and a 1,000 m² terrace, a unique space will be created that highlights the major principles of sustainability, diversity, community and collaboration.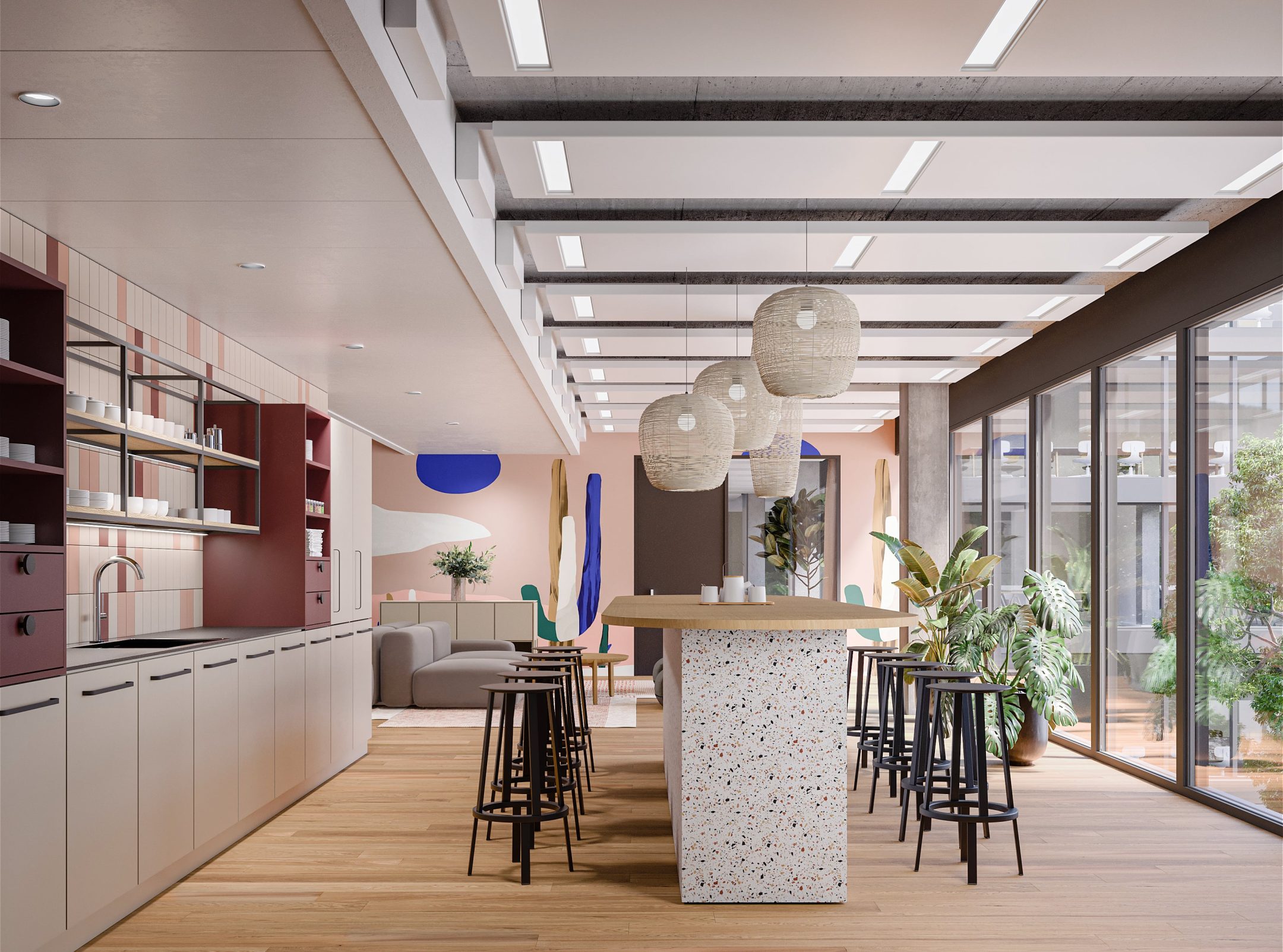 Design
Due to the large number of employees of different nationalities and cultures, the client wanted to build offices where every individual would be comfortable. The central theme was therefore a vision of home, away from home, combining the principles of an agile office with a home environment. Through them, the company intends to communicate the identity of e-commerce pioneers who successfully combine technology and creativity. We selected the most popular styles from the home24 platform and reflected these in the higher floors. Each of the five office floors has its own community zone that reflects a particular style. In subtle nuances, individual elements appear throughout the entire floor, including the meeting rooms. The last of the floors aims to evoke an authentic mood in which everyone can find themselves. The reason for this is simple – there is a bar with a view of the Berlin skyline.
500 seats
7 floors
12 000 m²
Deliver
The home24 headquarters is located in a new modern building that has been designed with an emphasis on green certifications such as WELL Gold, DGNB Gold or Digital WiredScore Platinum. In line with the mobility of the future, the complex will also house the largest bicycle garage in Berlin, including electric charging stations. The revitalised site of one of the largest slaughterhouses in Europe, including new futuristic buildings, gives the historic site a new architectural and economic impetus.
We believe that the emerging site with its captivating atmosphere will become another popular destination when visiting Berlin, not only for visitors but also for the companies themselves. The project is best placed to become a vibrant place, comparable, for example, to New York's Meetpacking District.
Echo
"We have been working with Perspektiv architects since 2015, when we jointly prepared the STRV offices. The long-standing cooperation has proven to be a success and home24 architects brought a new vision of the offices to the project while maintaining the quality of the standards, despite the dynamic pace of the implementation."
Project information
Client

home24

Year

2022

Location

Berlin, Germany


Size

12 000 m²

Visualisations

Willbe Studio

Authors

Ján Antal
Barbora S. Babocká
Markéta Michálková

Co-authors

Petra Malovaná