Discover
We impressed the client with our approach and the fact that our and their average age in the company did not even reach 30 years. We designed the place for tech enthusiasts with respect to creating a strong community and a full-fledged environment for focused and creative work. You won't find golden handles here, but a birch grove, gym, terrace, and whirlpool, yes.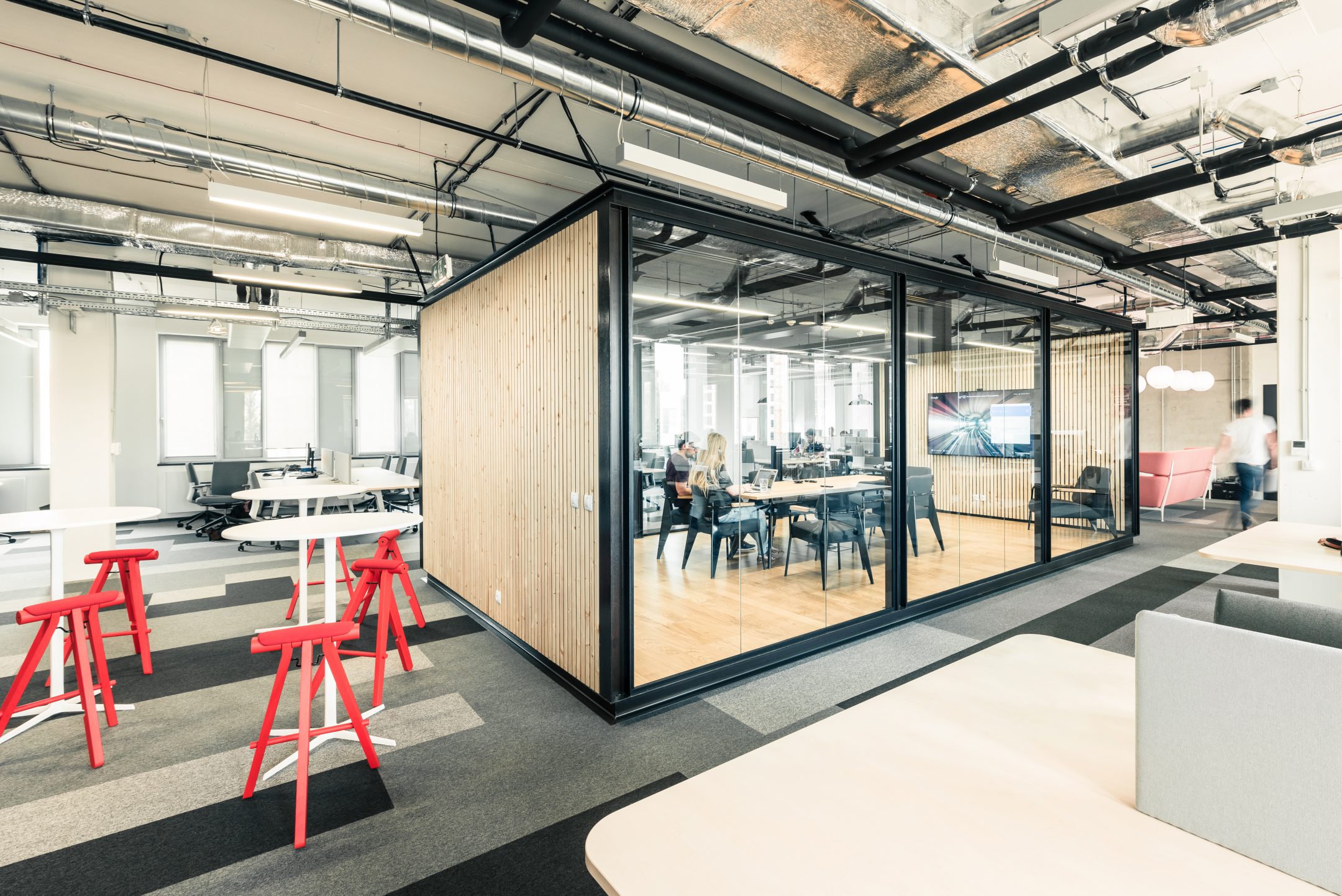 Design
We were looking for a new form of open-space with a human scale. Here the hierarchy speaks the language of design. You will recognize the most important elements immediately. The first thing you notice at the entrance is a seven-meter-long log of solid wood that literally floats in the air – the front desk. The podium and video wall are next in line. The nine-meter-long copper sliding bar is another cornerstone of interior design. We supplemented the design of modern offices, which shall not be just about work, with generous space for organizing events or a thematically tuned New York bar.
Deliver
STRV proves that a large office does not necessarily need to resemble a call center. A modern yet functional environment where the developer can take a nap after lunch or play billiards in the meantime. The premises are built so that the employees feel good there. The austere yet original presentation confirmed its qualities in the Zasedačka roku (Meeting R of the Year) 2016 architecture competition in the Smart Office category and the Big SEE Design Award 2019.
Echo
We aimed to create space that would properly represent our company culture and serve more than just a workplace. For us it was the first time building office this huge and I enjoyed the tight cooperation with Martin and his team. It was a big challenge but Perspektiv was vital in bringing this vision into reality.
Project information
Client

STRV

Year

2016

Location

Prague, Czechia

Size

5 500 m²

Photos by

Alexander Dobrovodský

Authors

Martin Stára
Ján Antal

Co-authors

František Bosák
Otakar Neumann