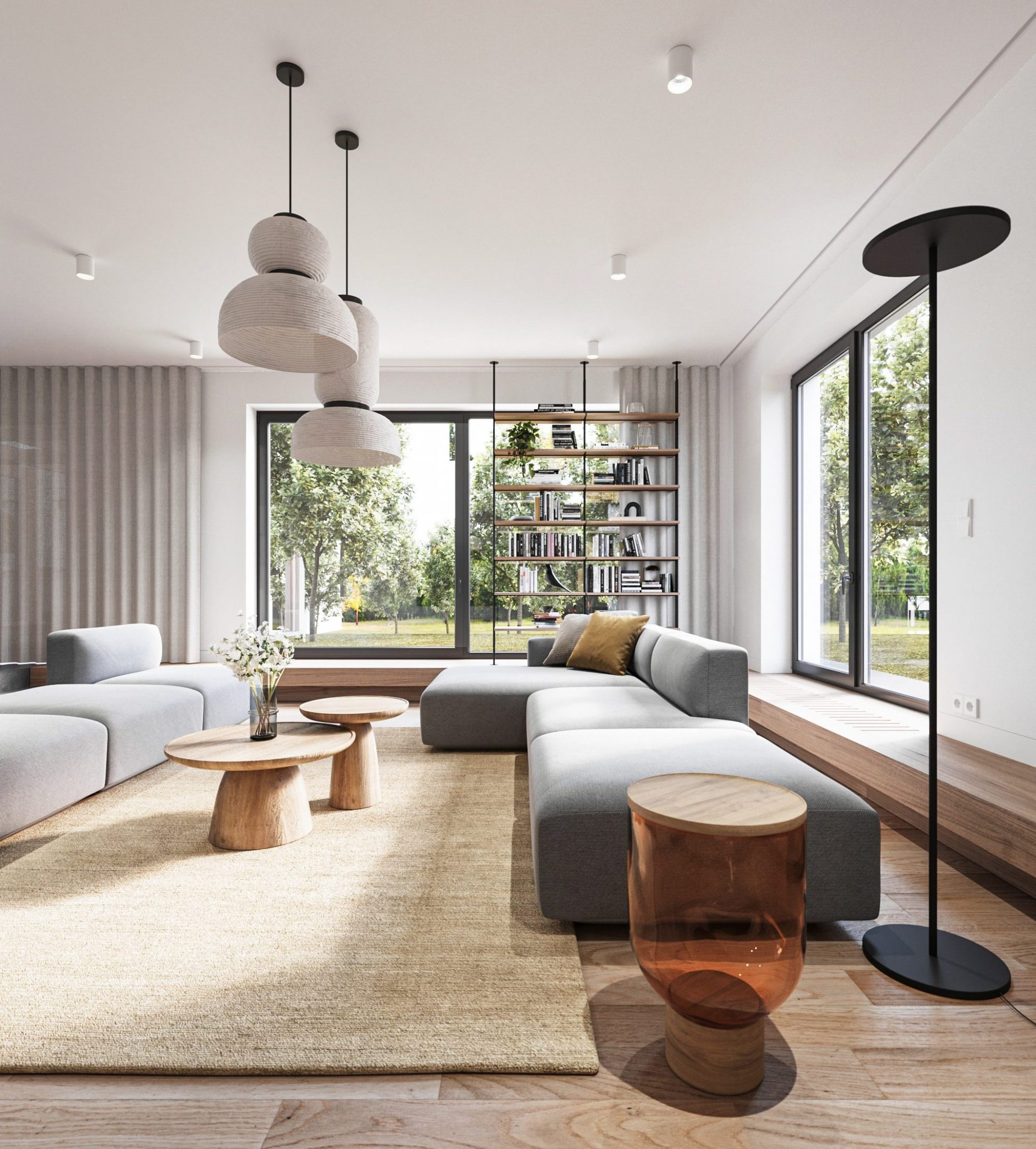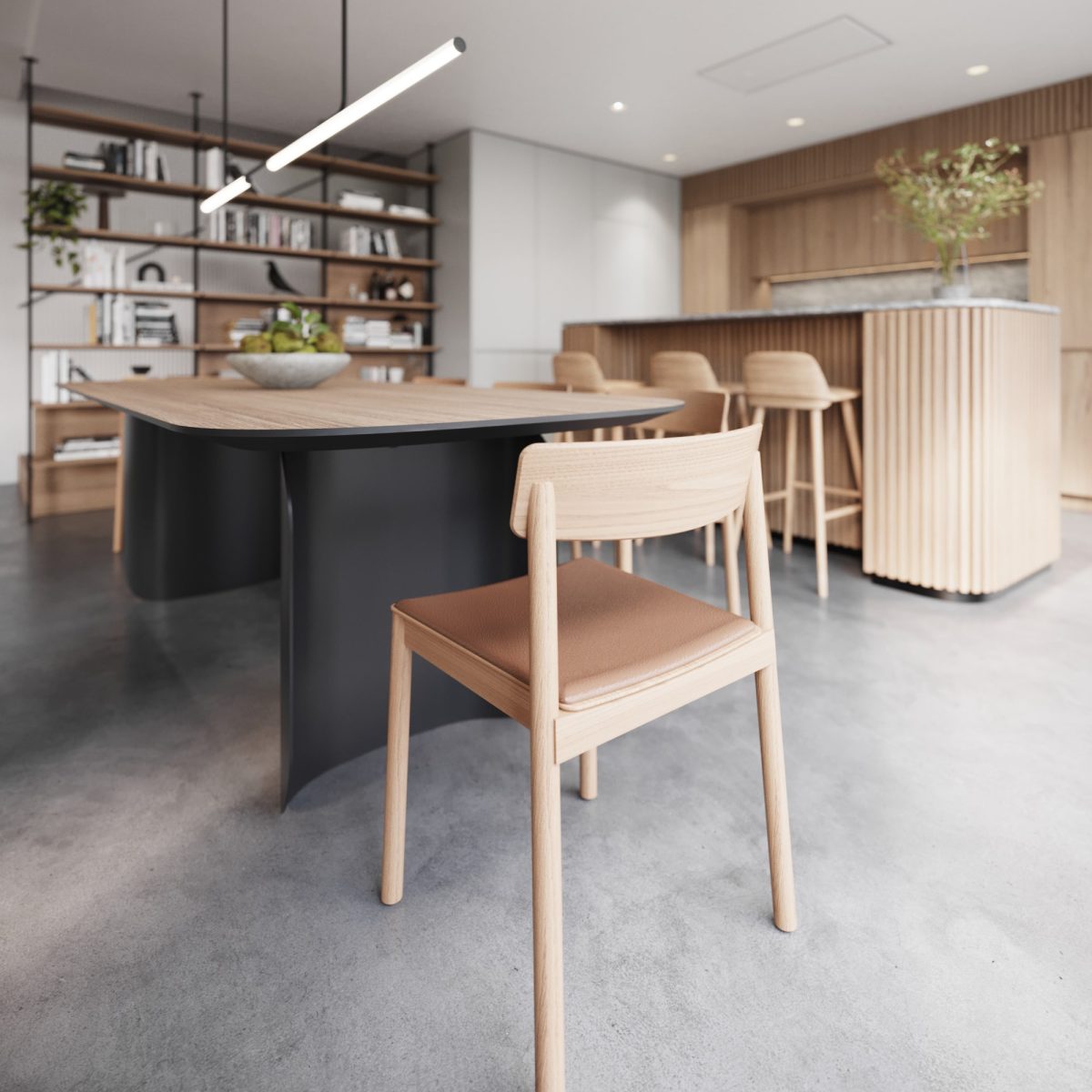 Discover
We have designed the house in a residential area, far from the hustle and bustle of the city, so that life can be lived to the full both indoors and outdoors. Thanks to the adjacent garden and large windows, the connection is very natural. The basic idea of the interior design is open spaces for gathering family and friends, which can be adapted to the current needs of the users. The central room is an open kitchen with an island and an adjacent living area. Atypical open shelves for books and decorations are placed in the airy space, adding to the feeling of cosiness.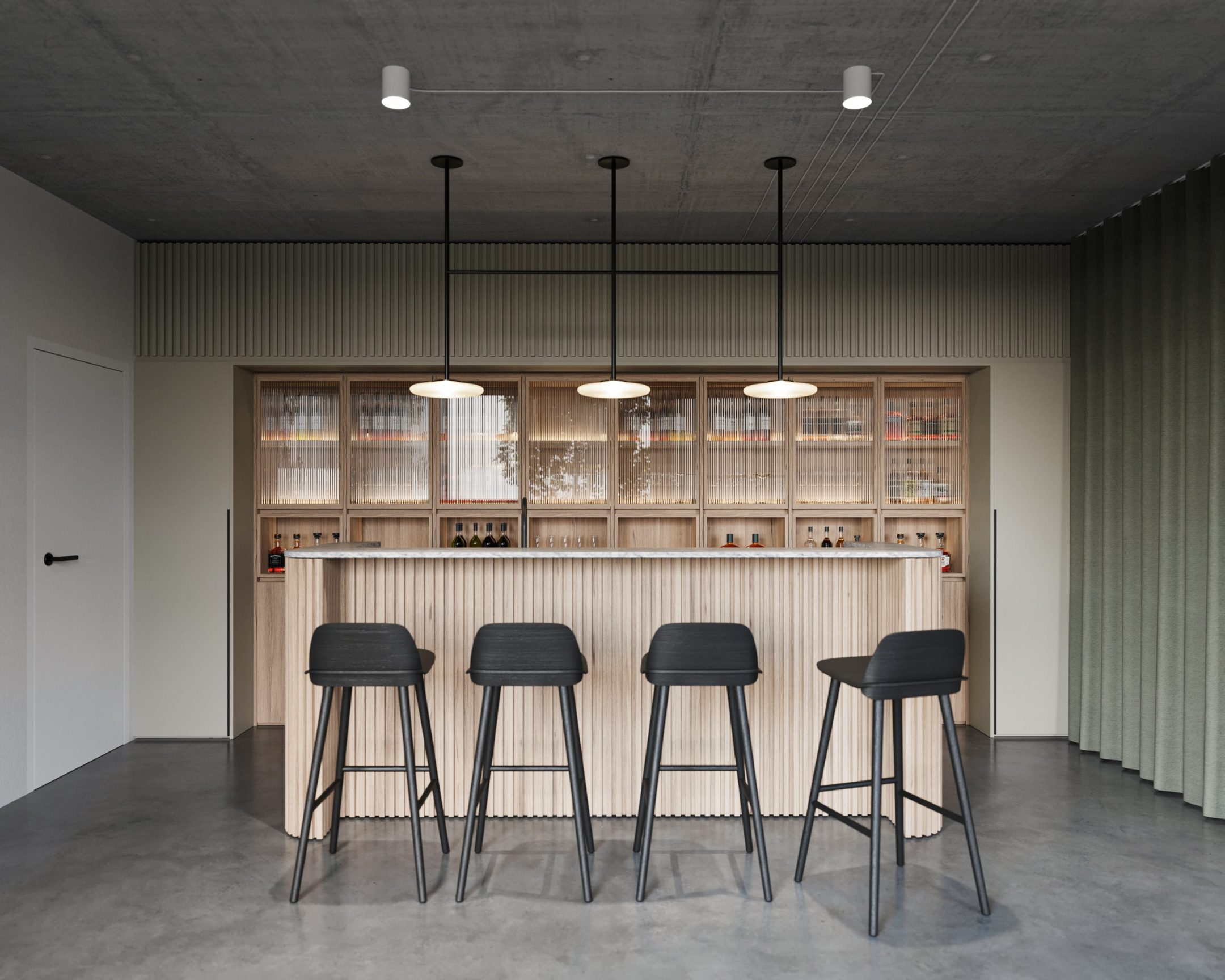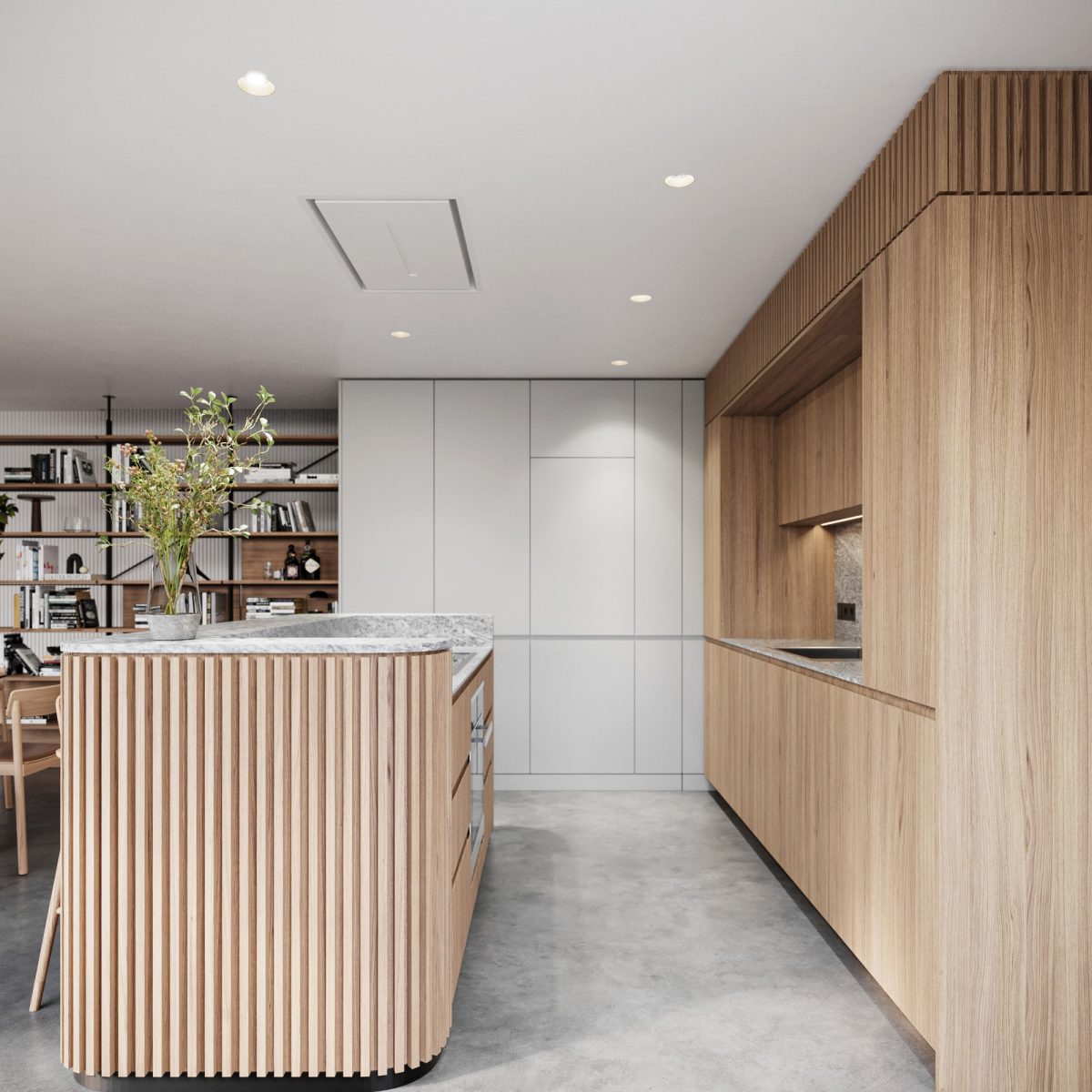 Design
We combine a muted palette of light shades with honest materials that support natural patterns and textures. Oak wood flooring, concrete floor and granite on the worktop form the base palette, which is then complemented by other elements in the form of textiles and unusual pieces of furniture. The interior is linked by motifs of vertical lines that give it the necessary level of detail. They are used both in the form of slats and on the texture of plaster or within the black metal elements of the shelving units and light fittings. The materially simple interior is softened by the use of several types of textiles in grey and earthy tones with different textures.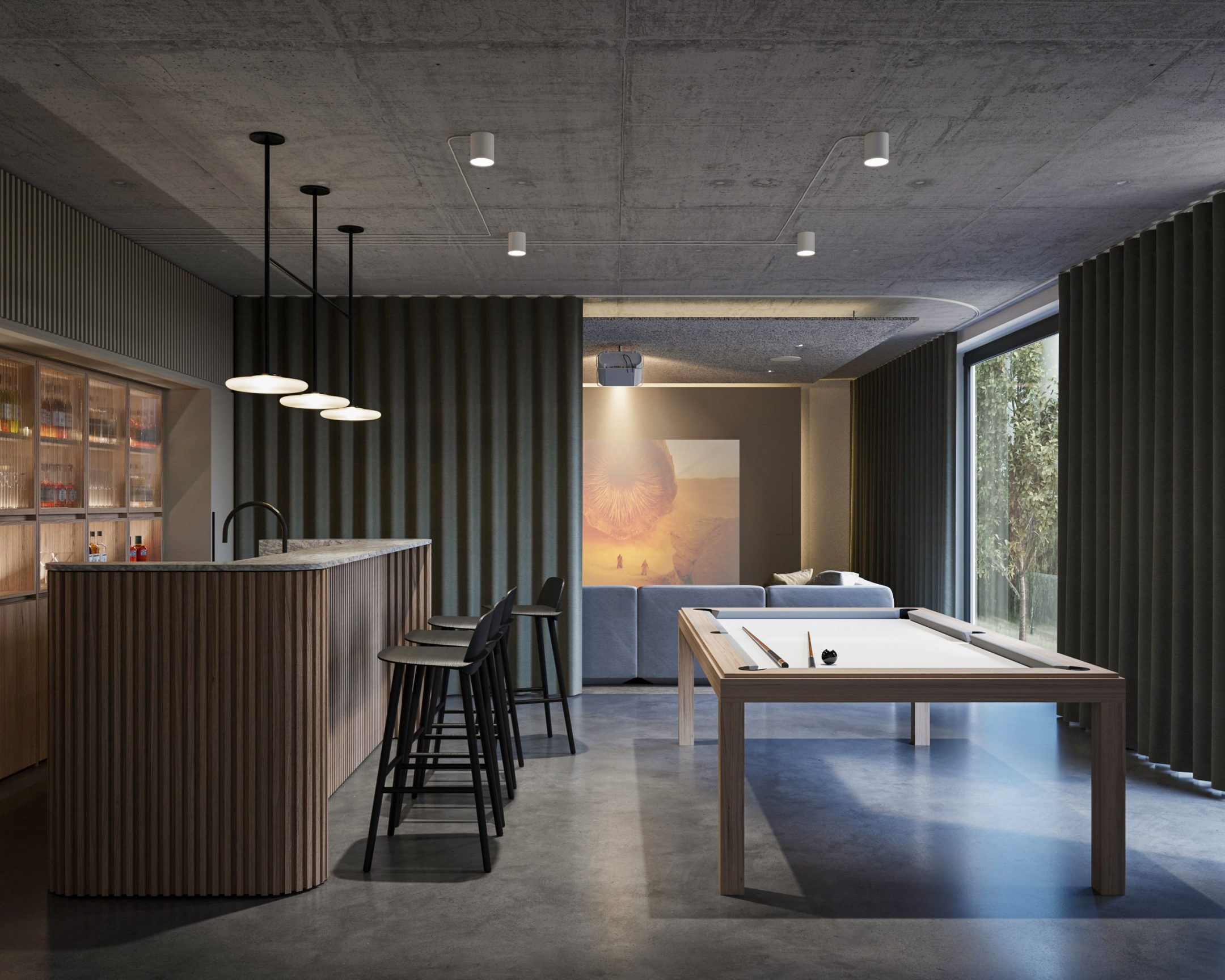 Thanks to the convenient layout, the family could afford to realize a full-fledged lounge with a bar. Entertainment can thus take place not only at the home cinema, but also while playing billiards, ping pong or board games. We place emphasis on using the right materials and achieving an acoustically suitable environment.  This is ensured by curtains that can be used to visually divide the room. The room can therefore be used in several different ways and can be divided into separate zones using the curtains. A comfortable sofa is also an integral part of the interior, offering space for guests to sleep.
Project information
Client

Private client

Year

2022

Location

Prague, Czech Republic

Size

246 m² / 6+kk

Visualisations

Perspektiv

Authors

Martin Pavlíček
Anna Longauerová

Co-authors

Barbora S. Babocká